These are the two hats I knitted for my friend Ruth for Christmas. She asked for a Where's Waldo Hat, and I messed up the first hat, which is the one on the left. It is clearly not a Where's Waldo hat, and is instead a Santa hat. I realized my mistake too late, and so finished the Santa hat before moving on to the Where's Waldo one.

This is the Deadpool hat/balaclava I made for Ruth's sister. The base is knit in red following the Jackyll & Hide pattern, and I hand sewed on black shapes to outline the eyes, and then put white netting underneath so that it could be used as a mask.
I made this hat for a knitting trade with my friend Katie. We wanted to do a trade of 'ugly hats'. I worked with both colors at the same time from opposite sides of the hat to create a striped pattern that spirals to the top, where I made the biggest pom-pom I could.
This zig-zag scarf was made for my friend Nicole's birthday.
I decided on each row's color by flipping a coin for each row, resulting in a lovely, truly random pattern.
That's right, it's an R2D2 hat! I made this to celebrate the new Star Wars movie, and used the Star Wars Droid Beanies pattern. I modified the hat a little bit by adding two extra rows, one where the hat is solid grey, and one at the bottom.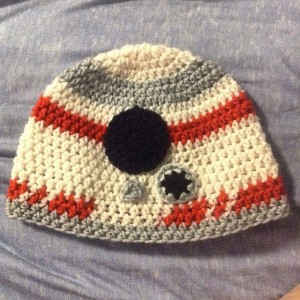 Yes! Another Star Wars hat! This one is BB-8, a character from Star Wars: The Force Awakens. I used a BB-8 Droid Hat Pattern, and modified the circles to be smaller, and looking at the robot in order to judge where to put them.