Since my visa doesn't allow me to do freelance work and I've been making hats like it's what's keeping me alive, I've been trading hats with my friends for different things. I believe I've mentioned this before, when I talked about my Ugly Hat Trade with my friend Katie.
My friend Scott, who takes the same course at uni with me, requested that I make him a 'cat beanie' in trade for a drawing, so I present you with the Witch's Cat Hat. The hat is a simple knit base with a half inch of rib stitch at the brim. The ears are two identical crocheted triangles which were then crocheted together using black yarn.
This hat was traded with my friend Luc for food. It was made using the Hella Gay Hat pattern, which I lengthened to make a beanie. I made the larger size, and it ended up being too big. I tried a new technique on this hat, double knitting, which causes the design to be knit on both sides of the piece at the same time, just in opposite colors. It was a little difficult to start out, but easy to pick up. This method takes a lot longer than just creating 'floats' in the back of the work, but the tension is much better. Since there is essentially two layers of work, this makes the hat warmer and squisher, which is nice, but since I only double knit a small portion of the hat, it ends up looking a bit odd when placed on the head.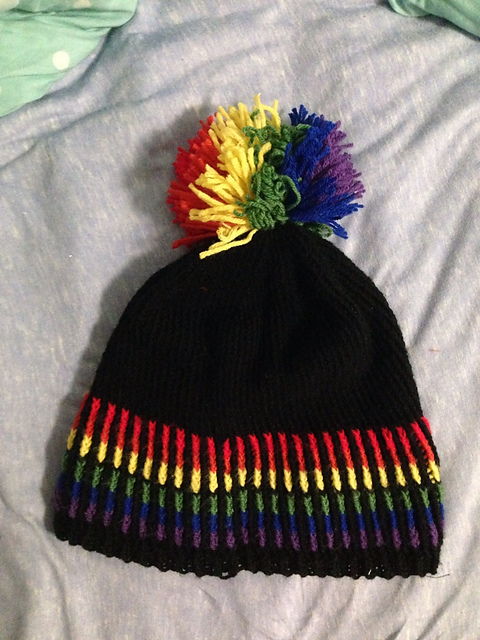 I am very happy with the pom pom.