The dress is another pattern from Gertie's New Book for Better Sewing. It's the Sweetheart Sundress, although I modified it to better fit the idea that I had in my head. I changed the front of the dress so that it is no longer just two pieces (one on each side), but is now five (two on top, three on bottom), changed the back piece by separating the piece along the darts into three separate pieces, and changed the side zipper in order to make a more fitted dress.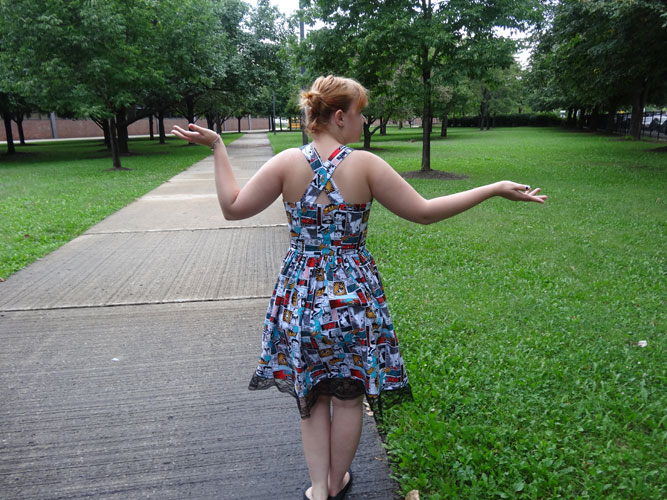 The skirt is a simple gathered skirt with a wide lace trim to add a bit of interest to the dress. The first time I applied the lace to the dress, I accidentally melted a segment of the lace with the iron and had to tear out the whole trim and replace it with new lace.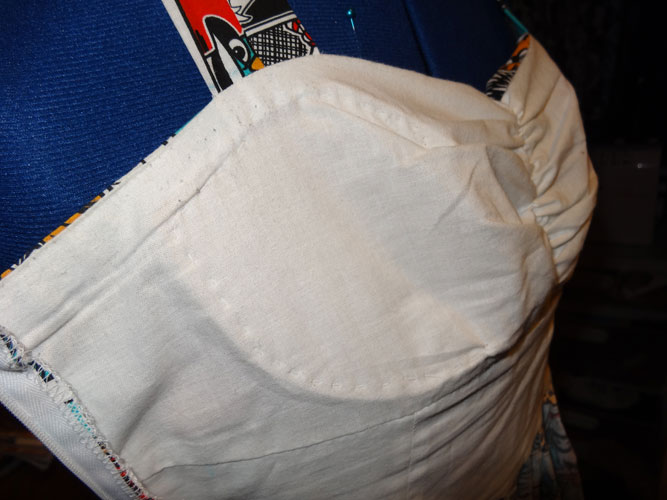 This is the inside of the dress. Only the top is lined, and I hand sewed in bra cups for support. The zipper is on the left side, and I did not encase it in fabric on both sides because I was trying to avoid hand sewing as much as possible.
I found this fabric at Joann's while looking for a fabric I could use to make a comic book print dress. I think that the fabric fits the criteria I set, because it includes animated characters in a comic book print design. It's a cotton blend printed with the Phineas and Ferb characters with a focus on Perry the Platypus.