There was a huge Disney meet on the third day of London MCM, which I went to dressed as Star Butterfly. Star Butterfly is a character from the Disney show Star vs the Forces of Evil.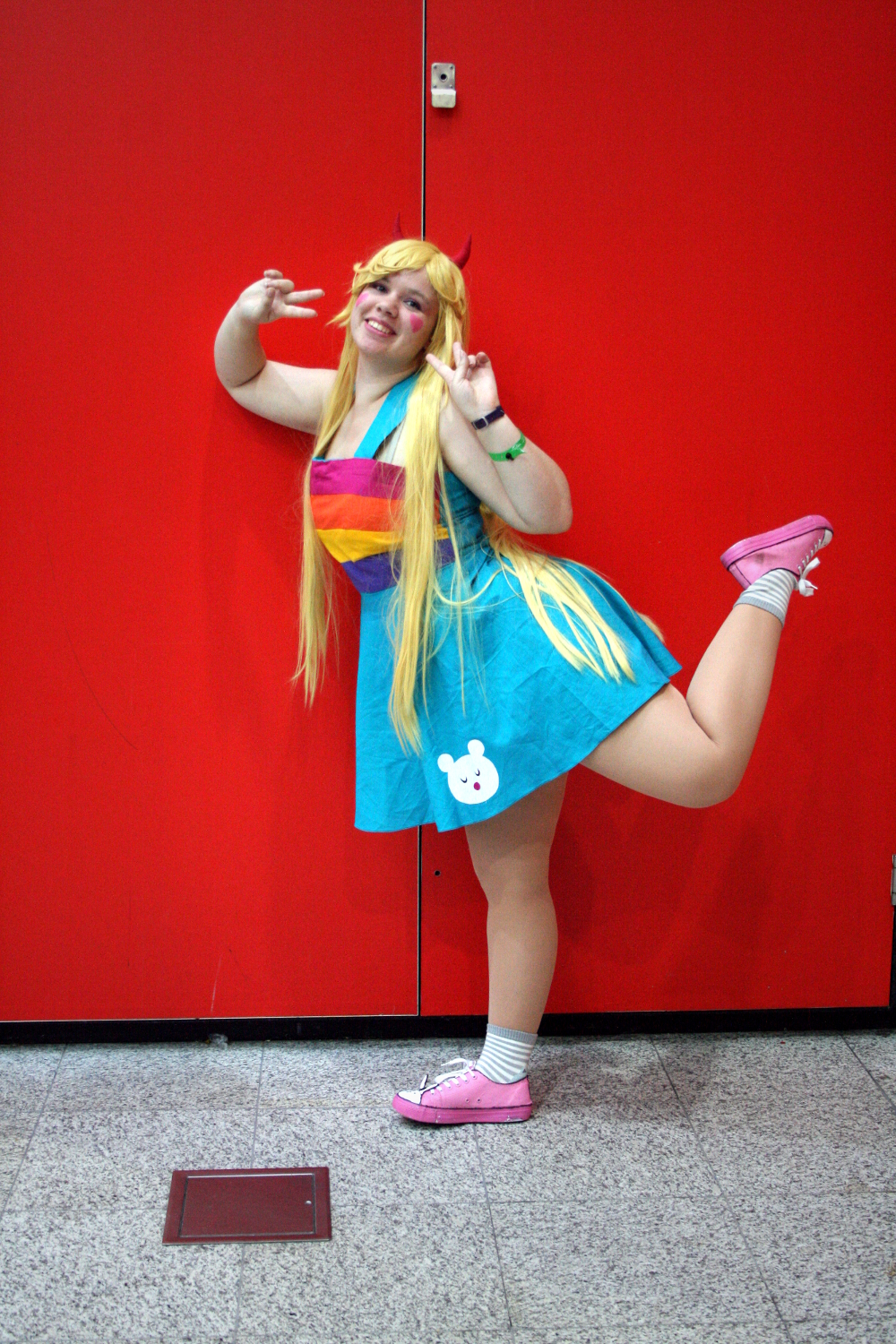 For this cosplay, I made the dress and the headband, painted the shoes, and styled the wig. Making the dress was much more of a pain than I originally thought it would be. I had to shape the front of the dress by curving each of the front stripe pieces just right, but I had a lot of trouble doing this. I finally got the shape of the front right and attached to the back, when I discovered I'd somehow made the front piece much wider than the back piece. The bodice somehow still fit, but the front panel wrapped around further than I wanted it to. The skirt went on with little fuss, although I did somehow catch extra fabric in the hem a few times. I lined the bodice of the dress with darted teal fabric – I wasn't about to try and stripe the inside too!
This is the first time I've properly styled a wig for a cosplay. I styled it using craft glue, which meant the front of the wig didn't move at all during the day. The headband was made by hot gluing fabric over an alice band, then hot gluing stuffing filled fabric horns onto that.
The shoes I painted with multiple layers of acrylic paint to match Star's shoes in the show. In the show she wears rabbit faced boots instead, but I had to work with what I had. I also sewed, painted, and glued on little rabbit ears to the shoes, but those fell off very quickly. The paint on the rubber soles of the shoes scraped off pretty quickly. I unfortunately didn't think to take pictures of the shoes before the convention.
This cosplay was so cute I ended up wearing it for Halloween! Since I'm on a costume course, many people wore really, really good costumes. This costume was lots of fun, and I plan on wearing the dress again as normal clothing.